Volkswagen has just unveiled the Golf R 333 Limited Edition, a special model with a production run limited to just 333 vehicles. Based on the Golf R Performance, this limited edition packs a powerful punch with an impressive output of 333 PS (245 kW). Equipped with high-quality features such as R-Performance Torque Vectoring and Vehicle Dynamics Manager, this all-wheel-drive model guarantees exceptional driving stability and traction. Catching the eye with its Lime Yellow Metallic paintwork, the Golf R 333 is further accentuated by sleek black accents, creating a unique appearance that is sure to appeal to collectors. Interested buyers can place their orders at German dealerships starting from Friday, 2 June, with delivery expected in October of this year.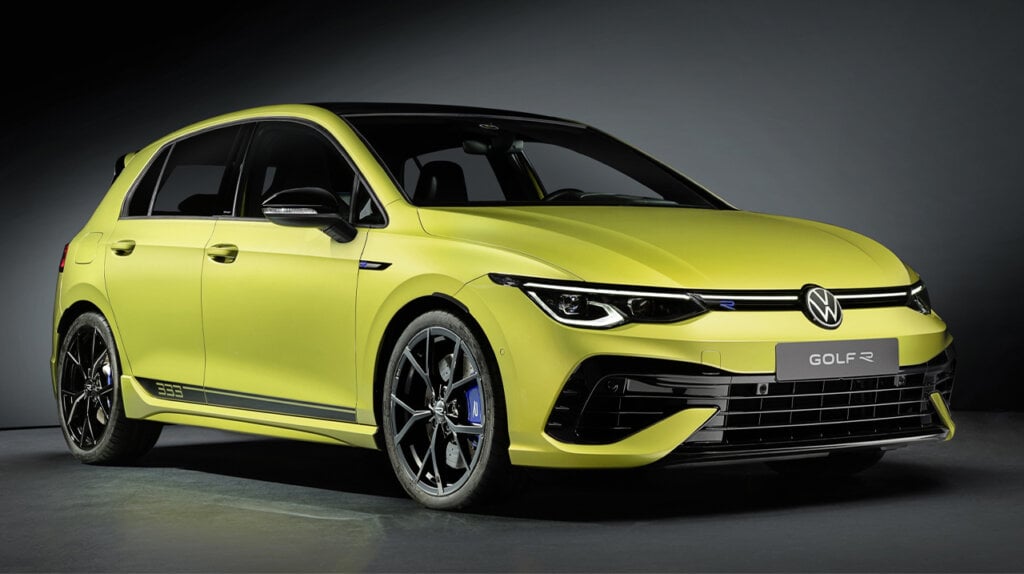 Hakim Halimi, Head of Product Marketing at Volkswagen R, explains, "The Golf R 333 is the first R model where we have predefined a specification that fulfills all customer desires in terms of performance, thanks to its extensive equipment." Notably, this model includes R-Performance Torque Vectoring with Vehicle Dynamics Manager, which not only distributes power between the front and rear axles but also between the two rear wheels, offering an exceptional level of sportiness, especially during cornering. 
The decision to limit the edition to 333 vehicles was inspired by the engine's impressive power output of 245 kW (333 PS) and torque of 420 newton meters. Optimized engine tuning ensures an extremely responsive load change response, with the turbocharger preloaded to maintain a consistent speed during partial-load driving. This enables faster power development for subsequent acceleration. Additionally, the open throttle valve during overrun phases improves dynamics and on-road performance. When the driver releases and reapplies the accelerator, the engine torque builds up more quickly, resulting in improved responsiveness. With an acceleration time of 0 to 100 km/h in just 4.6 seconds, the Golf R 333 Limited Edition sets a new benchmark in its class.
The Golf R 333 Limited Edition stands out with its vibrant Lime Yellow Metallic paintwork, expanding the color options for the Golf R lineup. Hakim Halimi adds, "With the special exterior color, black-painted roof, and design decals featuring the 333 logo on the sides, this Golf R offers a combination that is truly unique. It is the first Volkswagen R model with a strict limitation of 333 units and a sequentially numbered badge in the interior."
In terms of equipment, the Golf R 333 Limited Edition includes premium sport seats upholstered in Nappa leather, complete with integrated head restraints. The powerful IQ.LIGHT LED matrix headlights, part of the Light and Vision package, illuminate the road ahead. Advanced driver assist systems are also provided, encompassing the IQ.DRIVE package, which features Travel Assist, Lane Assist, Emergency Assist, and Adaptive Cruise Control (ACC) with stop & go function. The Golf R 333 Limited Edition is further equipped with a center airbag (front) and a rearview camera system. The interior is adorned with a Harman Kardon sound system boasting 8+1 loudspeakers and a total output of 480 W, ensuring a sublime audio experience.
The Golf R has achieved cult status, with over 250,000 orders since its introduction in 2002. Peter Jost, Head of Marketing & Sales, Volkswagen R, emphasizes the significance of the Golf R 333 Limited Edition for the brand: "It is precisely these limited, high-performance vehicles that ignite the Volkswagen R brand, captivating enthusiasts with their exceptional appeal. Each customer can proudly own an extremely rare vehicle, which has the potential to become a collector's item."
Starting at a price of 76,410 euros, the Golf R 333 Limited Edition can be ordered from German dealerships beginning on 2 June. Production of all 333 vehicles is scheduled to take place in Wolfsburg, with delivery to customers expected from October. In addition, a customer event at the Autostadt is planned for all buyers of the Golf R 333 Limited Edition, who will have the opportunity to pick up their vehicles in Wolfsburg in October.