Audi of America has made a bold statement in the performance car segment with the introduction of the fastest and most powerful RS 6 and RS 7 models to date. The RS 6 Avant Performance and RS 7 Performance have undergone dynamic improvements that include increased power and torque, a more precise self-locking differential, and enhanced steering responsiveness. These updates ensure an exhilarating driving experience, complemented by a captivating exhaust note due to reduced sound insulation.
The new RS 6 Avant Performance and RS 7 Performance models exemplify the pinnacle of Audi Sport's range, promising unmatched dynamism and engagement for discerning drivers. The 4.0-liter biturbo V8 engine has received larger turbochargers and increased boost pressure, resulting in a substantial power boost of 30 horsepower and 37 lb-ft of torque. With a remarkable output of 621 horsepower and 627 lb-ft of torque, both models can sprint from 0 to 60 mph in just 3.3 seconds, representing a 0.2-second improvement over their predecessors. The top track speed is electronically limited to 155 mph but can be increased to 174 mph with the optional Bronze edition.
Furthermore, Audi Sport engineers have made significant updates to the fully mechanical self-locking center differential, reducing its size and weight. The transmission control unit's software has also been refined, enabling quicker shifts and delivering improved driving dynamics. These enhancements result in enhanced cornering control with reduced understeer at the limits, ensuring precise handling. Notably, the engine control software has been fine-tuned to provide sharper shifts in "dynamic" mode, enhancing the emotional connection between driver and vehicle.
To heighten the visceral experience, Audi Sport has deliberately reduced sound insulation between the engine compartment, interior, and rear of the RS 6 Avant Performance and RS 7 Performance models. This reduction highlights the cars' performance-oriented nature, allowing the resonating sound of the mighty 621 horsepower V8 engine to permeate the cabin. For those seeking an even more captivating soundtrack, an optional RS sport exhaust system is available, providing an even greater acoustic presence.
The new RS 6 Avant Performance and RS 7 Performance models stand out from their predecessors with their distinctive exterior design. Both models feature matte gray RS exterior trim components, including the exterior mirrors, front spoiler, front side flaps/blades, side sill inserts, roof rails (for RS 6 Avant Performance), rear diffuser, and side window trims. Additionally, customers can choose from a range of eight exterior colors, including two new options: Gerenadier Red metallic and Ascari Blue metallic.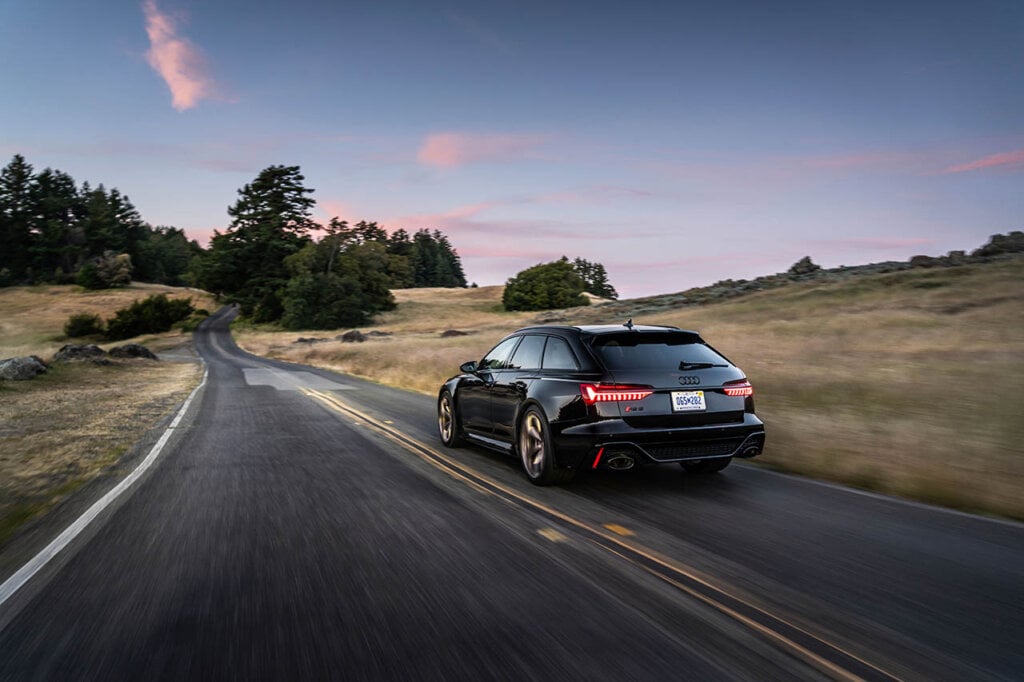 Audi has placed a strong emphasis on handling and weight reduction by offering lightweight forged 22″ milled cut wheels, which reduce unsprung weight by 5 kg (11 lb). These wheels, available in various designs and finishes, contribute to improved handling characteristics and precise control. They are now paired with new summer performance Continental "Sport Contact 7" 285/30 tires, delivering enhanced grip on both dry and wet surfaces, minimizing understeer, and shortening braking distances by up to 2 meters (6.5 feet) when decelerating from 62 mph to 0 mph.
Inside the cabin, the new RS design package plus adds an extra touch of luxury and customization. Customers can choose from three colors: gray, red, and blue. The RS design package in blue features ocean blue seatbelts, a carbon twill structure inlay with blue accents on the dashboard, and package color stitching on the flat-bottom Alcantara-wrapped steering wheel, floor mats, and sides of the center console. The gray and red RS design packages include black seatbelts with a matching color border and a standard carbon twill structure inlay. The front sport seats boast Valcona leather upholstery perforated with honeycomb contrast stitching and the RS logo in blue, gray, or red.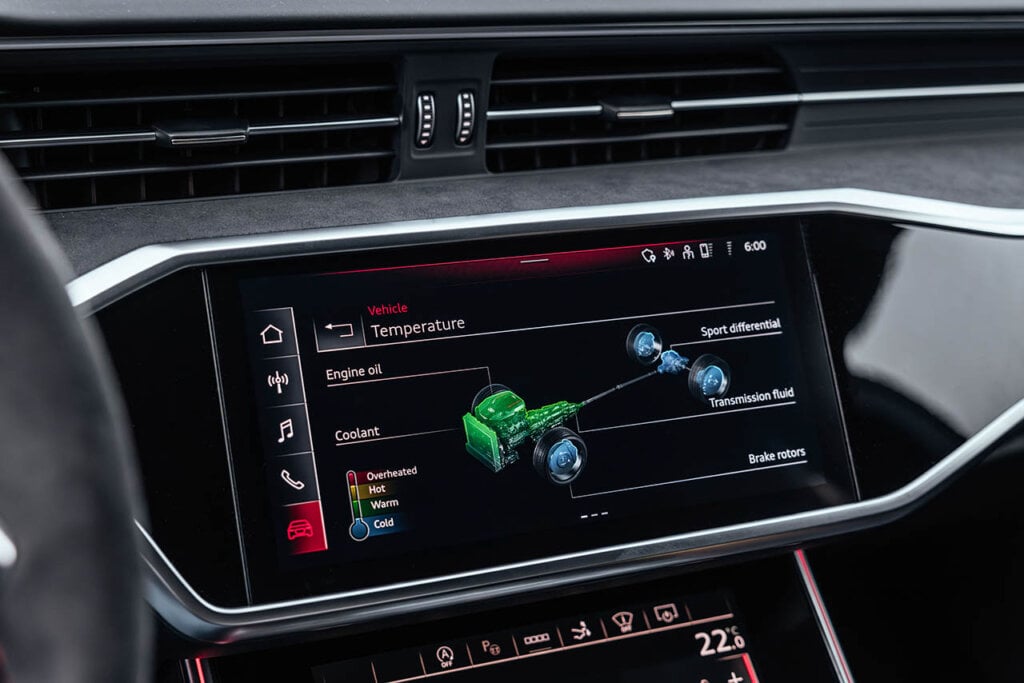 The standard 12.3-inch Audi virtual cockpit plus offers additional features to enhance the driving experience. In manual transmission mode, a new blinking shift indicator changes the RPM display from green to yellow to red, following the pattern used in motorsport to indicate the optimal gear change timing. Launch Control, optimized for acceleration, now includes traffic light icons indicating the ideal moment to accelerate off the line. The Audi virtual cockpit plus also allows drivers to switch between black and white displays, with the white gauge option inspired by the instrument cluster of the iconic 1997 S6 plus, the first car developed by quattro GmbH. Furthermore, the RS 6 Avant Performance and RS 7 Performance models are distinguished by an LED puddle lamp graphic that projects "RS Performance" on the ground next to the car when the door is open.
For those seeking the ultimate in exclusivity, Audi offers a limited-production Bronze edition. With only 125 units available (75 RS 6 Avant Performance and 50 RS 7 Performance models), the Bronze edition showcases a distinctive Sebring Black crystal effect paint finish, complemented by striking matte neodymium gold 22″ 5-Y-spoke wheels, inspired by motorsport aesthetics.
The upgraded RS 6 Avant Performance and RS 7 Performance models represent Audi's unwavering commitment to delivering exceptional performance and thrilling driving experiences. With enhanced power, dynamic improvements, and a captivating exhaust note, these models are poised to captivate automotive enthusiasts who crave excitement and exclusivity. The combination of cutting-edge technology, stunning design, and uncompromising performance ensures that Audi remains at the forefront of the luxury performance segment.