Get ready to embrace the thrill and experience of the 2024 Nissan Z NISMO.
Nissan doubles down on thrilling performance with the return of Z NISMO, delivering an exhilarating track-ready experience for enthusiast drivers. The NISMO grade builds on the capabilities of the Z Sport and Performance grades for those who seek more excitement and dynamic performance. Targeted enhancements amplify the precisely tuned Z to excite drivers of all abilities. Nissan delivers by elevating the iconic sports car's performance with additional horsepower and torque, NISMO-tuned suspension and brakes, revised aerodynamic bodywork, stiffened suspension, and wider wheels with a more aggressive tire compound.
Exterior revisions to Z NISMO were specifically engineered to improve aerodynamic performance on the race track. As a result of the changes, Z NISMO produces positive downforce. The front of Z NISMO prominently features a styling element called the "Grand-Nose" or "G-Nose," which extends farther forward than on other grades and recalls a similar design treatment on the heritage Nissan Fairlady 240ZG.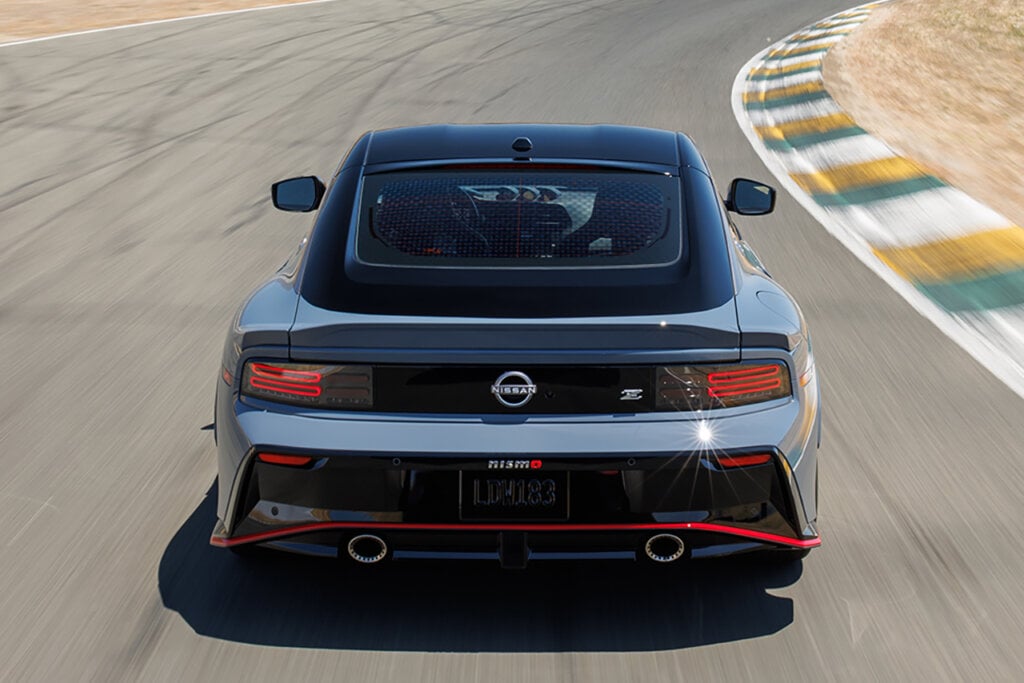 Complementing the G-Nose is a taller, wider rear spoiler (compared to Z Performance) with a three-piece design that extends onto the rear fenders. The rear bumper corners are reshaped to aid with air separation and reduced drag, inspired by the GT-R NISMO. Z NISMO's redesigned side sills also help reduce aerodynamic drag and lift. Above the window line, Z NISMO further stands apart with a dark metallic gray version of the car's signature katana-blade styling element. Additionally, it has a black-painted roof and gloss black 19-inch RAYS® wheels.
Nissan designers carefully enhanced the cabin of Z NISMO to amplify visual appeal without creating unnecessary visual "noise." The engine start/stop and drive mode selection buttons are anodized red. The graphics in the fully digital TFT meter display feature a red outline around the tachometer, a NISMO logo, and a special red "flash" during the start-up animation. Helping to secure the driver and passenger in place are Recaro seats finished in a combination of leather and Alcantara, with a red center section and NISMO logos in the headrests. A new steering wheel features leather and Alcantara trim, with a sporty, racing-inspired red accent mark at the 12 o'clock position.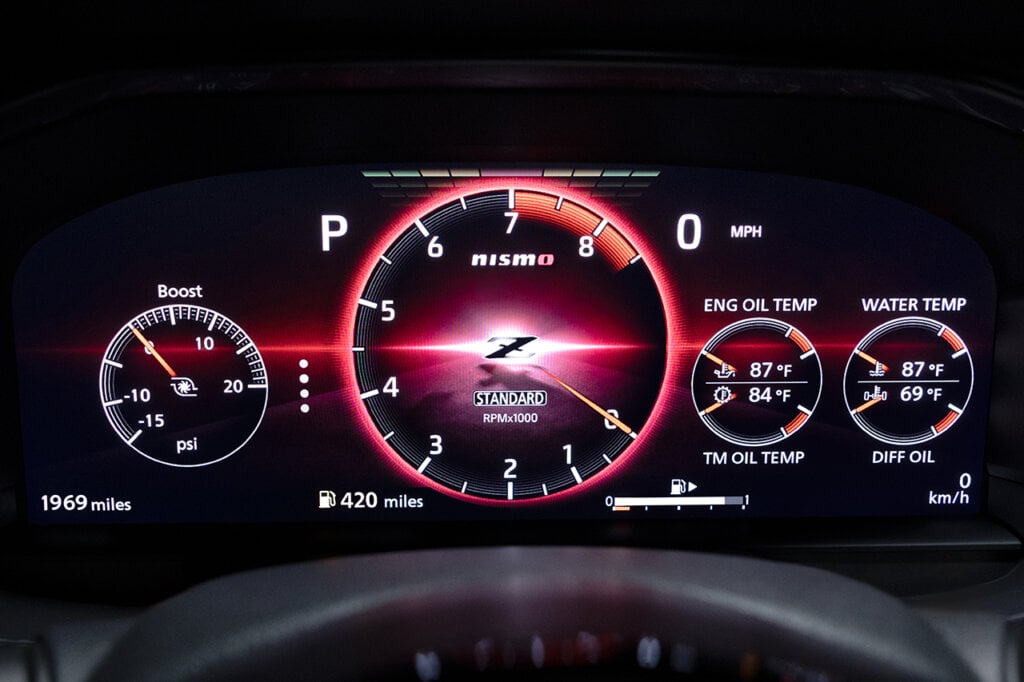 Z NISMO takes the twin-turbo engine's power outputs up to 420 horsepower and 384 lb-ft of torque, increases of 20 hp and 34 lb-ft compared to other Z grades. Peak torque is delivered from 2,000 through 5,200 rpm, ensuring drivers have strong performance across the rev range.
Z NISMO exclusively uses a nine-speed automatic transmission that has been enhanced for faster and more dynamic shifting performance, with a particular focus on suitability for track use. Compared to the transmission in other Z grades, it has revised clutch packs allowing for faster shifting. Launch control also delivers more aggressive standing-start acceleration.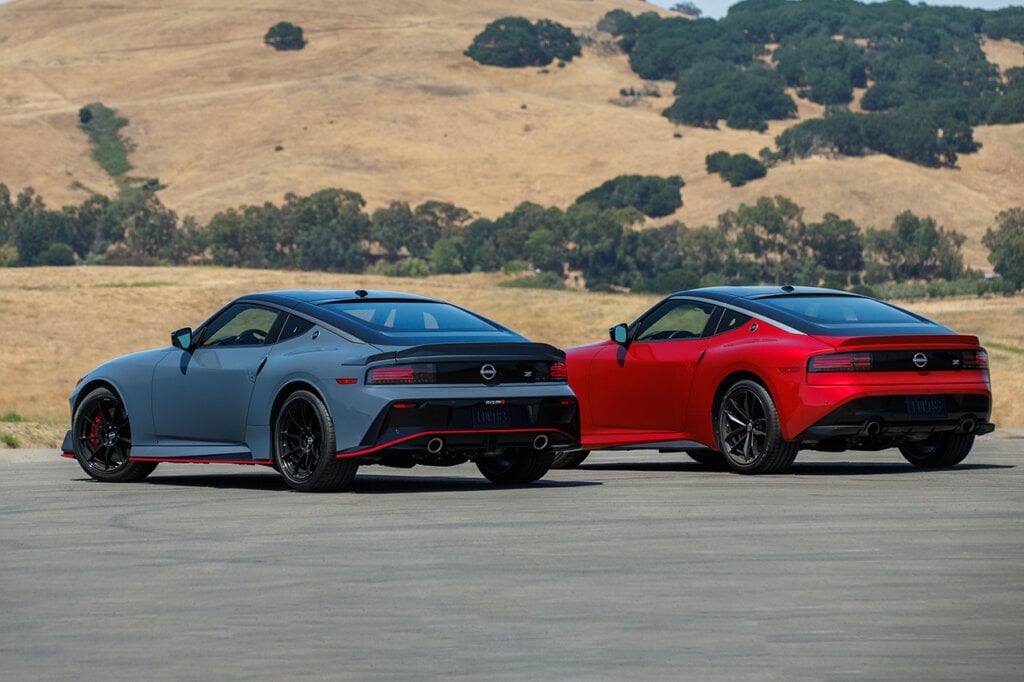 Engineers enhanced the Z NISMO braking system, upgrading the front brakes to larger, 15.0-inch rotors matched to 13.8-inch rear brake rotors, and equipping a more performance-focused brake pad compound. The changes are intended to improve Z's impressive brake pedal feel and enhance braking performance in extended track use scenarios.
With the debut of the new 2024 Nissan Z NISMO is undoubtedly an upgrade with its enhanced performance and dynamic design. The additional 40 horsepower and 34 lb-ft increase in torque do contribute to a more exhilarating driving experience, making it a step up from the base and sport models. However, the fact that it only offers an automatic 9-speed transmission leaves a sour taste in the mouth of automotive enthusiasts who may long for the engagement and control of a manual gearbox. While the 400 Z NISMO shows promise and seems to be heading in the right direction, it almost leaves us wanting more. As a driving enthusiast, I appreciate the improvements but can't help but wonder if there could have been further advancements to fully embrace the spirit of a true driver's car.
How do you feel about the New Z Nismo? Something you're interested in seeing on the streets? Performance plus and iconic Nismo styling sure is nice, but has Nissan sold you on it?
Let us know down below.