Carlo Borromeo's choice of the Lamborghini Diablo as the foundation for his Eccentrica restomod project stems from a desire to celebrate and enhance the iconic nature of the original model. This project required meticulous design study to accentuate the Diablo's personality and style. Led by design firm BorromeodeSilva, the emphasis was on preserving the car's essence while infusing modern enhancements. The result is a fusion of classic allure and cutting-edge engineering.
Notably, the restomod boasts an upgraded engine performance, refining the original 5.7-liter V12. Technical advancements like new valves and camshafts slightly elevate the power output to 550 HP at 7,000 rpm, with torque reaching 600 Nm at 6,500 rpm. This is part of an ongoing validation process that combines traditional and composite materials, such as titanium and carbon fiber, to achieve a remarkable weight-to-power ratio below 2.9 kg/HP.
In reimagining the exterior, BorromeodeSilva embarked on a comprehensive redesign. While the windshield remains untouched, almost all other body parts like bumpers, hoods, flanks, and side skirts have been replaced with precision-crafted components. This meticulous reconstruction ensures seamless integration and improved efficiency. The vehicle's proportions have been pushed to the extreme, accentuating its aggressive stance, while the widened track enhances stability and handling.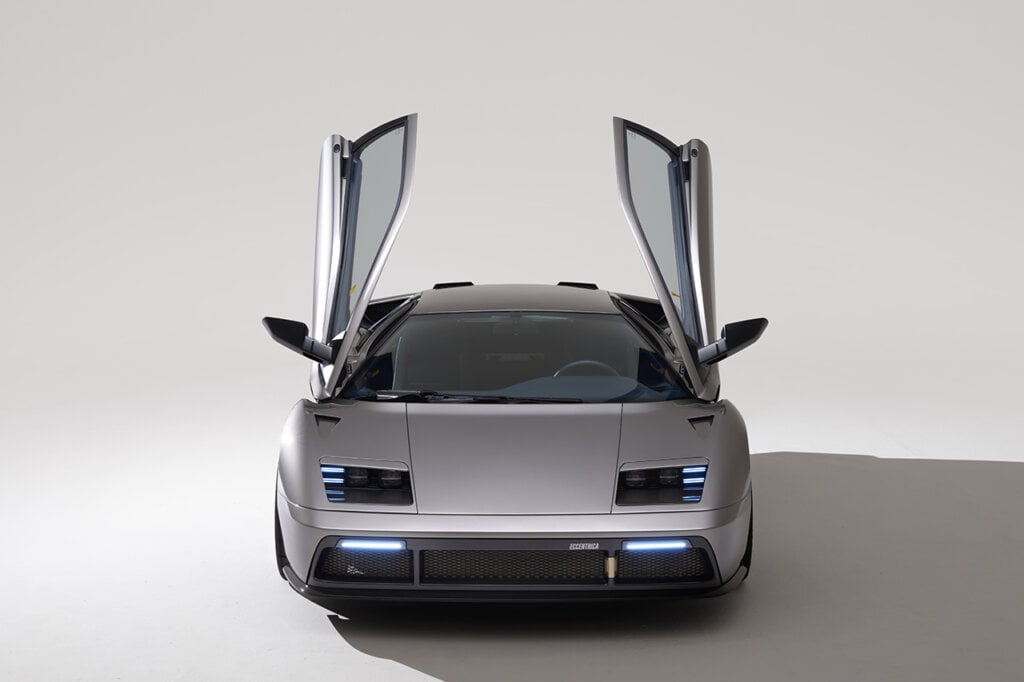 Attention to aerodynamics is evident throughout the design. The front end received a streamlined overhaul with a prominent extractor inspired by the Diablo GT. The iconic scissor doors and the addition of an aerodynamic fin on the side skirts contribute to both form and function. New 19" alloy wheels take cues from motorsport for added flair.
The rear transformation is marked by horizontal design elements drawn from the original model. The inclusion of slender carbon bumpers, significant air intakes, and reinterpreted taillights highlights a modern touch. An eccentric yet compelling feature is the inclusion of "pop-down headlights" that exude a retro-futuristic appeal while adhering to contemporary standards.
Interior refinements provide a meeting point between 1990s minimalism and contemporary mechanics. Materials like leather and Alcantara blend seamlessly in a redesigned seating arrangement that combines elegance with sportiness. The steering wheel remains true to the Diablo's essence while incorporating ergonomic upgrades. The interior is marked by clean lines, high-quality displays, and a powerful audio system developed in partnership with Marantz.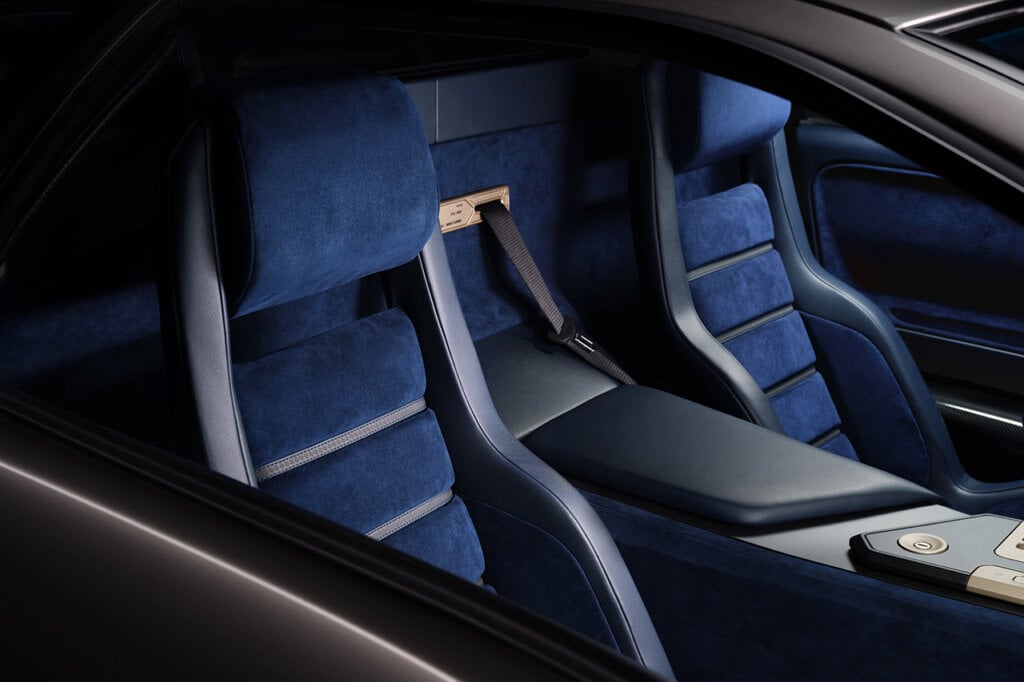 Technical development culminates in a driving experience that melds ultralight materials, advanced technical solutions, and elegant design. The prototype, poised for both street and track, exhibits impressive performance metrics: 0-100 km/h in 3.5 seconds, a top speed of 335 km/h, and 1.2g lateral acceleration in curves. These capabilities are amplified by a Brembo-designed braking system and CAPRISTO exhaust system, complementing the aggressive yet aerodynamic form.
Restomods, the trend of revitalizing iconic cars while infusing them with modern aesthetics, continues to capture the automotive world's imagination. Among the distinguished list of vehicles undergoing this transformative journey, the Lamborghini Diablo emerges as a notable contender. Lamborghini's legacy of merging performance and aesthetics finds new expression through Eccentrica's endeavors. The project not only preserves the Diablo's 80s legacy but elevates it with a touch of modernity, evident in the fusion of a digital-retro dashboard featuring blue Alcantara upholstery and refreshing the Diablo's exterior with hints of carbon and reworked body lines.
Eccentrica's approach skillfully harmonizes the raw power of the 80s with the sophistication of today, resulting in an automotive work of art that encapsulates the car's heritage while embracing fresh perspectives. How do you feel about the Restomod Diablo from Eccentrica?