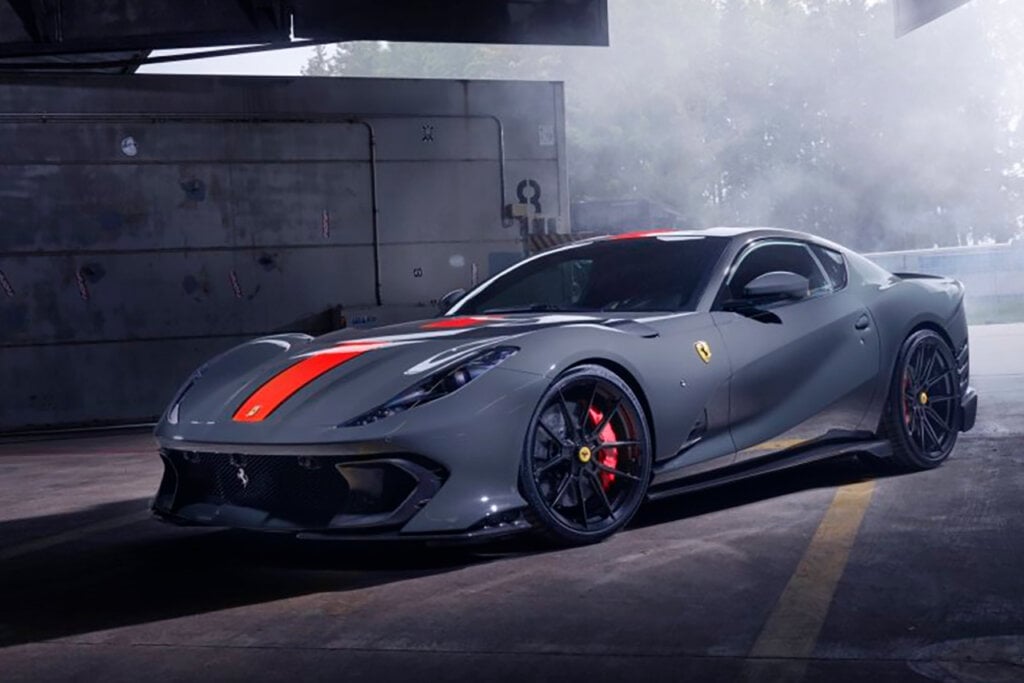 Novitec, the renowned tuner from Germany, specializing in fine-tuning and optimizing supercars, has taken the exceptional Ferrari 812 Competizione to new heights. Novitec has meticulously refined this lightweight variant, elevating it to unprecedented levels of power and style.
At the heart of this transformation lies the 812 Competizione's powerhouse: a 6.5-liter V12 engine. Novitec's engineering prowess shines through in the high-performance exhaust system, available even in a luxurious gold-plated edition. This exhaust system isn't just for show; it catapults the engine's peak power to an awe-inspiring 637 kW / 866 hp, resulting in an adrenaline-pumping driving experience that's hard to rival.
The exterior enhancements are as remarkable as the enhanced engine performance. Novitec's collaboration with American high-end rim manufacturer Vossen has led to the creation of tailor-made, hi-tech forged rims. These meticulously crafted rims come in the dimensions of 21 inches for the front and 22 inches for the rear, optimizing the car's wedge-shaped design. Not only does this wheel combination enhance the coupe's aesthetics, but it also contributes to the vehicle's improved handling, supported by specifically calibrated Novitec sports springs. By reducing the center of gravity through a lowered suspension, the handling becomes even more agile and responsive.
Navigating obstacles in style is made possible with Novitec's innovative front lift system. This system allows the vehicle's front axle to be raised by 40 millimeters at the touch of a button, ensuring that speed bumps and parking garage ramps no longer pose a threat to the car's underbelly. This blend of practicality and performance underscores Novitec's commitment to providing a comprehensive enhancement package.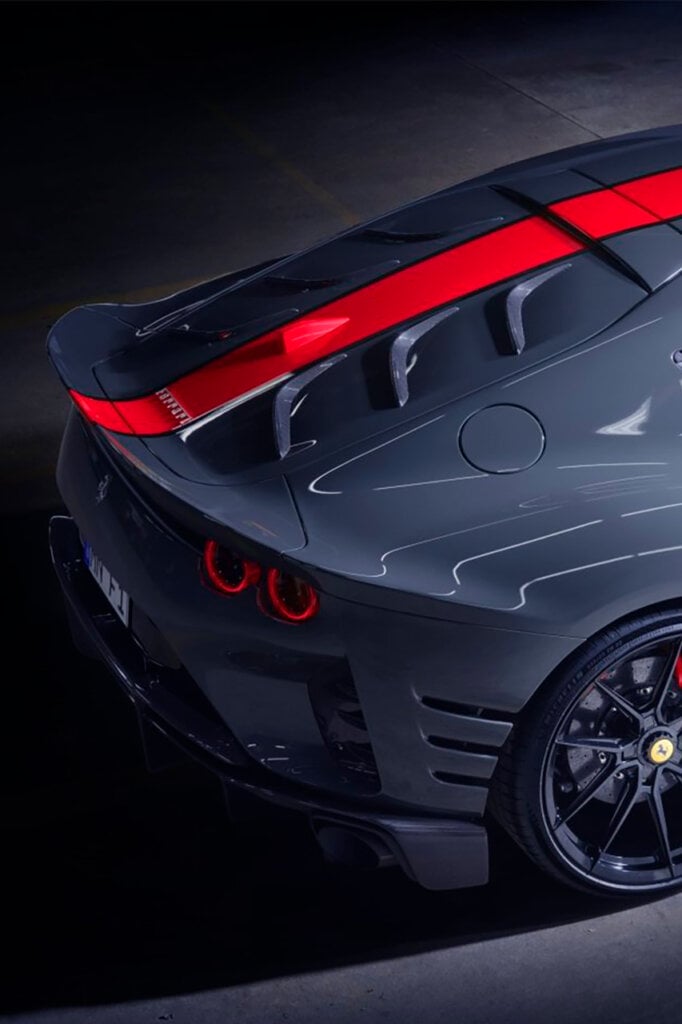 However, Novitec's expertise extends beyond the exterior and performance upgrades. The interior of the Ferrari 812 Competizione receives special attention as well. Novitec's hallmark lies in its ability to create bespoke interiors that cater to the desires of the vehicle's owner, encompassing a spectrum of colors and designs. This personalization ensures that the driving experience is not only exhilarating but also indulgent, reflecting the individuality of the car's owner.
Novitec's transformation of the Ferrari 812 Competizione is nothing short of extraordinary. With a refined high-performance exhaust system, customized hi-tech forged rims, lowered sports springs, and an innovative front lift system, the car's capabilities are elevated to unprecedented levels.
The upgrades performed by Novitec on the Ferrari 812 Competizione resonate on a unique level. While the enhancements might not involve an extensive overhaul, they beautifully complement an already spectacular car. The upgraded exhaust and the subtle lowering of the vehicle seem to be a deliberate pursuit of a refined taste. It's refreshing to see Novitec's restraint is not overshadowing the inherent brilliance of the 812.

Does the 812 Competizione even need performance or general upgrades? Subtle changes, but not inherently large enhancements to an already alluring car. Let us know what you think.