The RB engines, some of the most iconic 6-cylinder engines ever produced by Nissan. Engines like the RB26DETT—a force that propelled the Skyline GT-R models to iconic status. With a fusion of cutting-edge engineering and performance-driven design, the RB line's legacy remains as top tier for JDM enthusiasts. Let's take a deeper look into the RB engines that powered a JDM legend, Godzilla, & dream car to many. First off, the RB20DE.
RB20DE
The RB20DE, a member of Nissan's RB series, stood out as a naturally aspirated six-cylinder gasoline engine. Known for performance, the RB series engines were frequently chosen for various Nissan models, especially those in the sports and performance car lineup. This RB series powered several notable cars that etched an indelible mark on the automotive landscape. Among the most iconic platforms featuring the RB20DE was the Nissan Skyline, particularly in the R31 and R32 generations as well as the Nissan Laurel.
Featuring a 2.0-liter displacement, the "RB20" designation directly referred to its capacity. The "DE" label, representing Dual Overhead Camshaft Electronic fuel injection, encapsulated its technological characteristics. In an inline-six configuration, the engine's cylinders were arranged seamlessly in a row, and its valvetrain boasted a dual overhead camshaft (DOHC) setup, meticulously controlling valve timing for heightened performance. The inclusion of an "E" indicated electronic fuel injection, an advancement that ensured optimal fuel delivery to each cylinder, promoting efficient combustion and increased power output. Producing approximately 155 to 160 horsepower and 140 to 145 lb-ft of torque, though these figures could vary based on fine-tuning and applications, the RB20DE engine showcased remarkable versatility. Produced from around 1986 to the early 1990s, this powerplant seamlessly accommodated both manual and automatic transmissions.
Variations of the RB20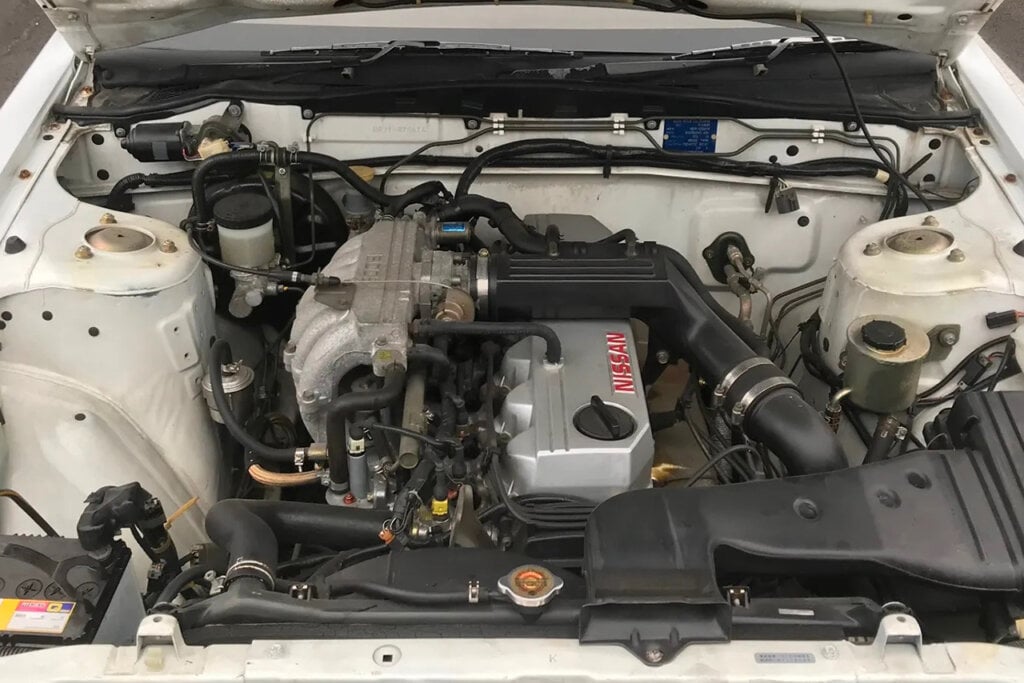 RB20E: A single-cam configuration delivering a power range of 96 to 110 kW (129 to 148 hp) at 5600 rpm, with torque output spanning 167 to 181 N⋅m (123 to 133 lb⋅ft) at 4400 rpm.
RB20ET: Combining single-cam architecture with turbocharging, yielding 125 kW (168 hp) at 6000 rpm and a torque of 206 N⋅m (152 lb⋅ft) at 3200 rpm.
RB20DE: A twin-cam setup producing power ranging from 110 to 114 kW (148 to 153 hp) at 6400 rpm, coupled with torque output between 181 and 186 N⋅m (133 to 137 lb⋅ft) at 5600 rpm.
RB20DET: A twin-cam, turbocharged configuration achieving impressive performance with 158 kW (212 hp) at 6400 rpm and torque of 264 N⋅m (195 lb⋅ft) at 3200 rpm.