On the eve of the Finali Mondiali, scheduled at the Mugello Circuit from October 24 to 30, Ferrari unveils the 296 Challenge, marking the ninth addition to the esteemed Ferrari Challenge Trofeo Pirelli lineup. Set to make its debut in the 2024 seasons of the European and North American series, the 296 Challenge brings forth a host of exciting innovations compared to its predecessor, the Ferrari 488 Challenge Evo.
The 296 Challenge embodies a novel philosophy that focuses on optimizing the road car's features for track performance. This transformative design redefines the parameters of the Prancing Horse single-make series, closely aligning with the specifications of the 296 GT3, which made its debut this year.
Derived from the 296 GTB, the 296 Challenge incorporates substantial modifications in its power unit, aerodynamics, and vehicle dynamics to maximize track performance. It boasts a groundbreaking 120-degree V6 engine, a first for the championship, featuring a 2992cc twin-turbo engine without the hybrid component, similar to the 296 GT3. This engine produces an impressive 700 cv (690HP) and a peak torque of 740 Nm (540ft-lbs), setting a new segment record with 234 cv/l.
The 296 Challenge introduces an aero package that achieves unprecedented downforce figures in the single-make series. This ensures peak efficiency in all conditions, generating over 870 kg of downforce at 250 km/h with the spoiler set at its maximum angle of attack.
Adding to its performance enhancements, the car debuts ABS EVO Track, an adaptation of the innovative system first seen in the 296 GTB. This system, paired with new CCM-R PLUS brake discs, improves braking performance and consistency. Additionally, the 296 Challenge benefits from specially developed Pirelli 19″ tires, making significant contributions to its handling and overall performance.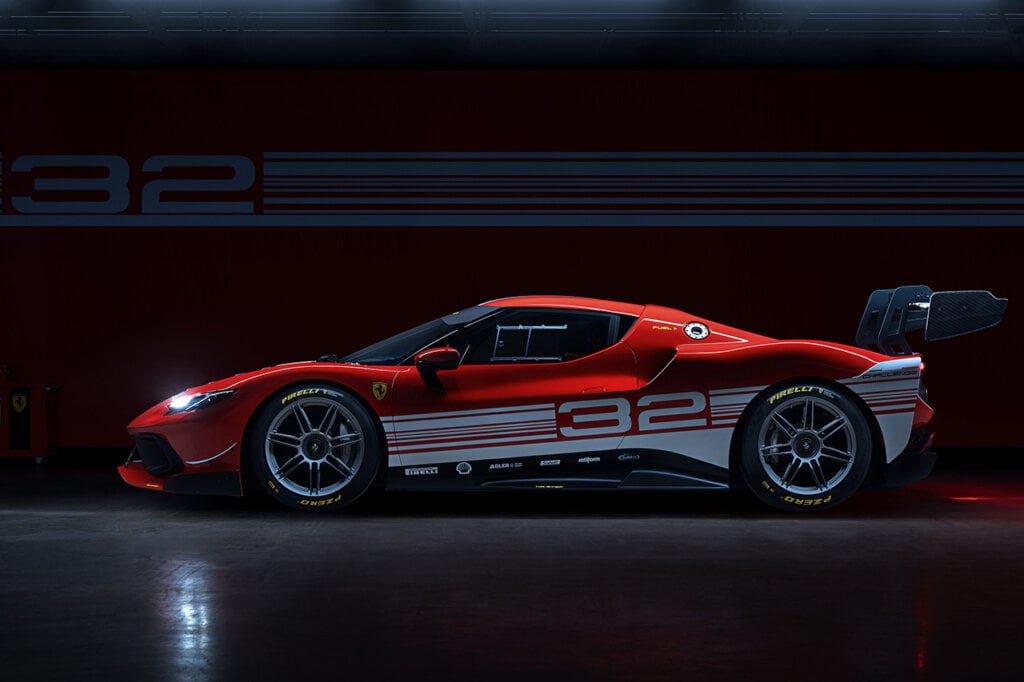 The 296 Challenge is undoubtedly a remarkable addition to the Ferrari lineup, showcasing the brand's commitment to pushing the boundaries of performance. The V6 engine's impressive 690hp output is a testament to Ferrari's relentless pursuit of excellence. As a fan of the brand, I am eagerly anticipating the sight of this remarkable vehicle on the circuit, as it promises to be a thrilling embodiment of Ferrari's enduring commitment to quality and innovation.