Aston Martin proudly introduces the groundbreaking DB12, a remarkable addition to the legendary DB bloodline that surpasses any other car in the world in terms of driving experience, refinement, technology, and luxury. With exceptional performance and a meticulously honed chassis powered by a class-leading 680PS/800NM V8 Twin-Turbo engine, the DB12 sets new standards and delivers an authentic and passionate driving experience.
Engineered for maximum performance and heightened emotion, the DB12 boasts enhanced structural stiffness, Michelin Pilot Sport 5 S tires tailored to Aston Martin's specifications, an all-new suspension system with adaptive dampers, and precise Electronic Power Assisted Steering (EPAS) and Electronic Rear Differential (E-Diff) for unrivaled agility. Equipped with the industry-leading Electronic Stability Control (ESC) system and five pre-set driving modes, the DB12 offers complete confidence and safety.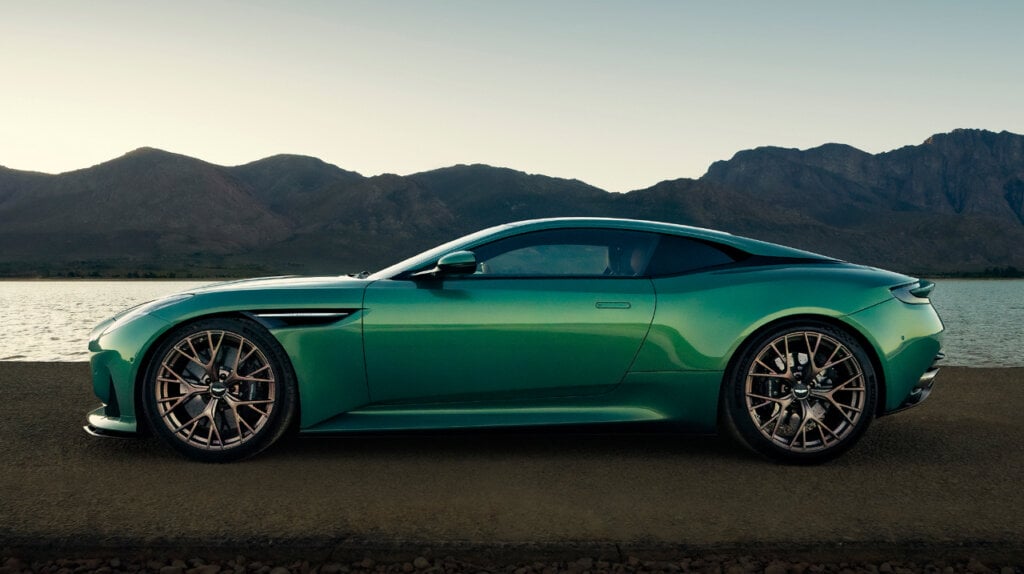 The DB12 marks Aston Martin's 110th anniversary and celebrates 75 years of the illustrious DB model line. It ushers in a new era for the brand, characterized by exceptional performance, advanced technologies, and the renowned style and craftsmanship that define Aston Martin. With its unapologetic performance, the DB12 accelerates from 0-60mph in 3.5 seconds and achieves a top speed of 202mph, thanks to its 4.0 Twin-Turbo V8 engine.
The DB12 introduces the industry-leading Electronic Stability Programme (ESP) system, which offers four pre-defined ESP modes and five pre-defined drive modes. These modes adjust the car's dynamic behavior, allowing the driver to explore its limits of grip and traction. The exterior design showcases the DB12's power with a more muscular physique, larger radiator aperture and splitter, LED headlights with a distinctive DRL signature, and 21-inch forged alloy wheels. The luxurious interior is replete with modern opulence, the latest bespoke infotainment system, and a powerful Bowers & Wilkins surround sound system.
Furthermore, the DB12 boasts an advanced infotainment system with online connectivity and a companion Aston Martin App, enabling seamless communication and interaction between the owner and the car. The connected car ecosystem utilizes global cellular networks and secure data servers, providing Over The Air updates, diagnostics, and personalized features. The app offers three free connected car subscription packages and allows owners to monitor and protect their vehicle, navigate, manage account details, and connect with the Aston Martin community.
Craftsmanship remains at the core of Aston Martin, with the DB12's interior adorned in hand-stitched Bridge of Weir hides and featuring exquisite detailing, including unique quilting patterns. The in-house infotainment system supports wireless Apple CarPlay™ and Android Auto™, with multi-screen displays and intuitive touch control. The DB12 truly represents the pinnacle of Aston Martin's heritage and innovation, embodying the brand's commitment to delivering extraordinary experiences to discerning customers.
The all-new Aston Martin DB12 was unveiled last night to 110 acclaimed figures from entertainment, sport and the arts during the Cannes International Film Festival. Proudly unveiled at the grand Hotel du Cap-Eden-Roc, Aston Martin's sparkling newcomer stole the spotlight and highlighted Aston Martin's 110th anniversary celebration.